Sisterhood of the Serpent
Prose Fiction. 36 pages. A4 size. Price: AU$10.00
They came from outer space.
They have been here since the Dawn of Man.
They are here now.
They are more beautiful than mortal women, wilder than the most ferocious beast, as warriors they have no peers.
They are insatiable amazons from another world and they lust after men to mate with...
...and to devour!
They are The Sisterhood of the Serpent.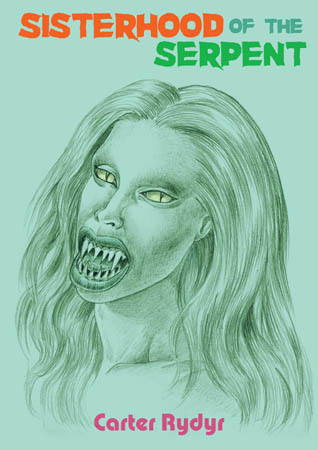 Members of an elitist cult of women known as the Sisterhood of the Serpent are lurking in the small country town of Daley Downes.. Outwardly, cult members pose as political activists and post modern feminists, but this is just a façade calculated to mask their truly nefarious activities.

Marcia Davenport, a local part time security officer and martial arts instructor, suspects that the cultists are more than just loud activists or provocateurs. She believes they are responsible for the disappearance and murder of her fiancé.

Dirk Houden, an investigator from out of town who is investigating the case informs Marcia that he is currently investigating further disappearances that are associated with the cultists, cases which go back several years. The last sightings of many of these missing persons were in the Daley Downes region.

Things soon get stranger. Through Dirk, Marcia learns the bizarre truth about the evil Sisterhood. They descended from the legendary Amazons, who came from another world, arriving upon the Earth at the dawn of human civilisation. After waging brutal wars against humanity in the antediluvian age, they were eventually put to flight and scattered to the remote regions of the world.

Now, new networking cults of them are appearing in numerous secluded locations; one of which is in Marcia's neighbourhood. Dirk's mission is to locate and destroy the nefarious cult operating in the Daley Downes region, and dispatch all local members of the Sisterhood.

After searching the region and discovering vital clues within an old church and surrounding bush, Dirk and Marcia eventually encounter the cult's lair, where they have been holding macabre ritual murders. The story comes to an intense climax after a gruesome confrontation with the fanatical Sisterhood, during which their idol transforms into a gigantic monstrous snake woman. After a spectacular battle, the struggling protagonists succeed in destroying the cult and their obscene, reanimated goddess.

Sample or download a copy here.

<< return to book index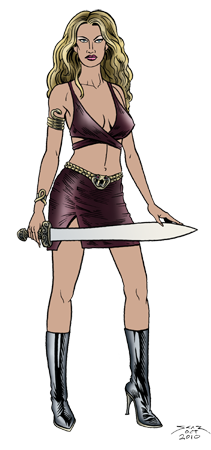 Alecto