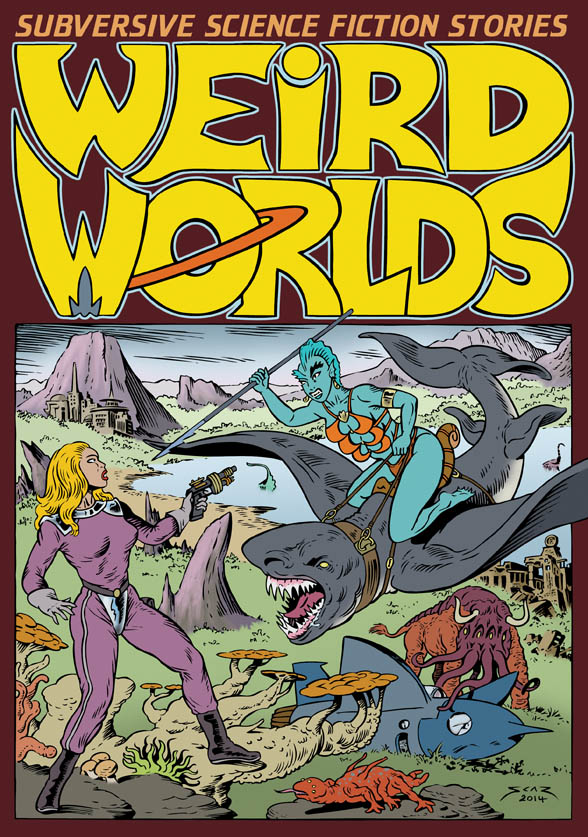 WEIRD WORLDS
Subvervise Science Fiction Stories
Volume 1
A Graphic Novel by SCAR!
Steve Carter and Antoinette Rydyr

Foreward, Layout and Design
by Pete Correy!
"Delightfully strange, grotesquely erotic, and infinitely imaginative, SCAR's comics will send you to weird worlds that hurt you in all the right ways. Highly recommended."
-- Carlton Mellick III,
author of Quicksand House
118 PAGES of interstellar surrealist
science-fiction horror comics!

A4 SIZE! B/W interior!
Full Colour Covers!


ISBN-13: 978-0987622914
Available from Amazon, Book Depository, Barnes & Noble, Fishpond, Wordery, AbeBooks and all good booksellers.
Go to Booko for the best price!
Purchase Weird Worlds Vol.1 direct from us:
Australia: AU$35.00 (including postage & handling)
International: AU$45.00 (including postage & handling)
4-Star Review by Dave Dye on Amazon January 21, 2018
Beautiful, Weird and Gruesome - All In One
Great art, great action stories and great imagination; all presented in large format pages. The only reason I gave it 4 stars is that it is in B&W not colour. The book deserves 5 stars really. Highly recommended.
Review by Bambos Georgiou - 1st January 2021
SCAR's WEIRD WORLDS features their unique blend of sci fi/body horror/action/sex comic strips. The strips feature a parade of mutants and monsters that rely on humans as a breeding ground, a host body or evolutionary jump start, which is always clearly thought out rather than being random acts of sexual violence. Transgressive transformations abound with right wing male skin heads morphing into the hideous female monsters they hunt and hate. The ideas fly thick and fast along with severed body parts and semen. Just as the stories feature various creatures mixing their DNA with horrified humans SCAR have mixed comic strip DNAs, splicing sci fi comics with porno movies to create something mind-bendingly new and disturbing. You need to get infected soon.
Weird Worlds Volume 1 graphic novel
back cover illustration
This volume contains seven strange and fantastical
black and white comic stories including:
MS FEMISMO - Set in Australia after The Fall – like the rest of the globe, this is a land besieged by highly adaptive hybrids, evolutionary descendants of genetic experiments created by terrorists during an apocalyptic religious war that devastated the world.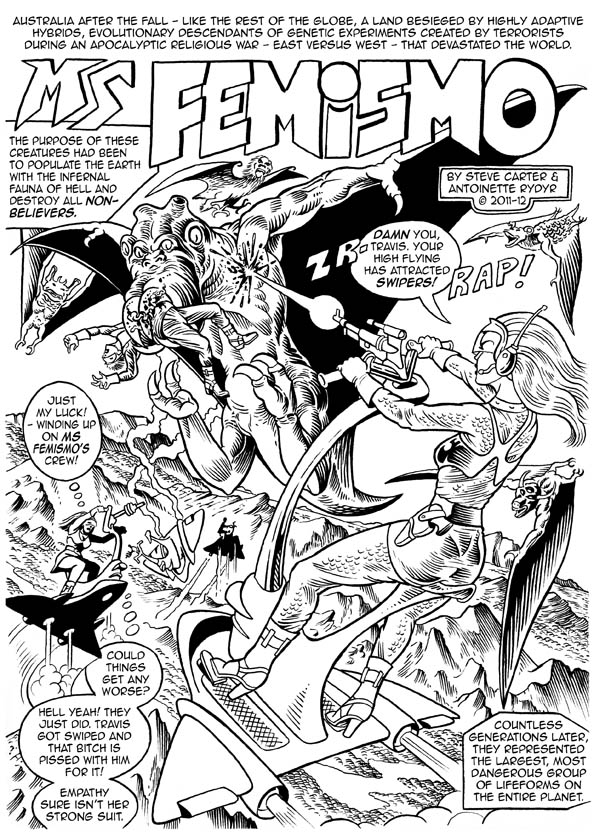 THE FUGLIES - A pair of genetically enhanced girls go on a rampage of murder and cannibalistic mayhem while being chased by the authorities through a wilderness populated by savage genetic freaks and horrific mutations.
HYBRIDOS, THE LOST PLANET - In a distant galaxy humans crash land on the lost planet of Hybridos. Radiation from a massive stellar event caused all lifeforms to continually mutate. For humanity to survive they will need to adapt to living amongst the every-changing lifeforms or become absorbed by the evolutions they battle against.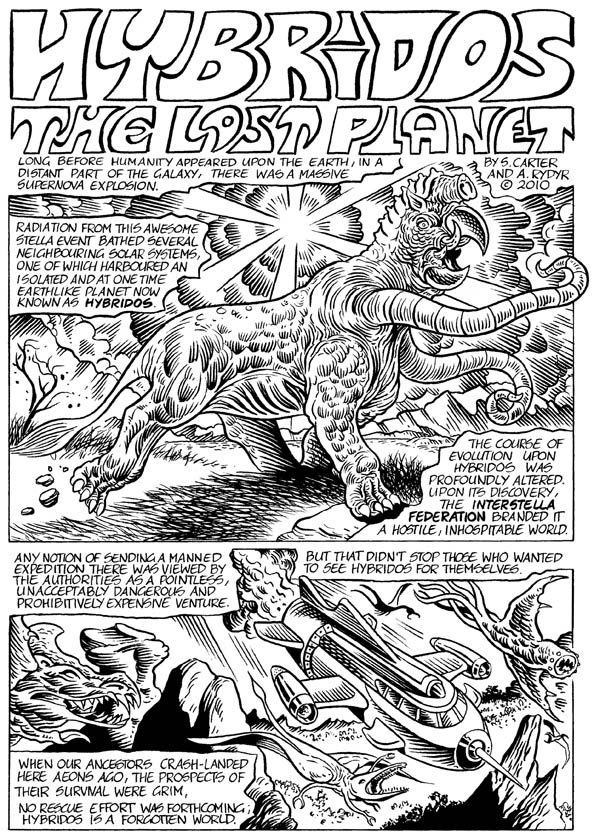 UNWORLD - THE WORLD BEFORE THE DELUGE: BATTLE OF THE BRUTES - In the aeons before The Great Flood hybrid races and monstrous beasts lived upon The Earth alongside Mankind. A village of warrior Minotaurs find themselves under attack by an army of sorcerous amazons from the foreboding Mandragor Wood.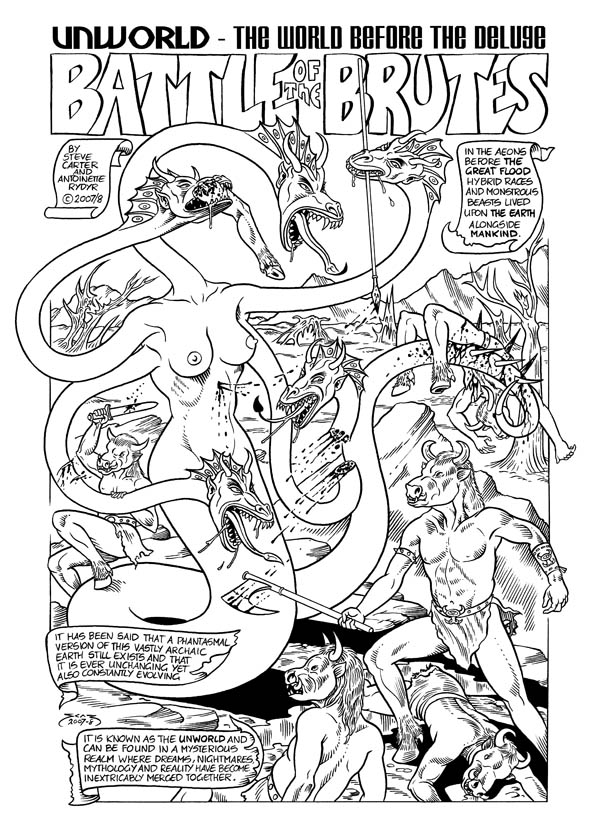 WAR OF THE WINGED WARRIOR WOMEN - An isolated Earth colony on the distant world of Valkyrei is besieged by a race of indigenous winged amazons called the Drugylla. The colony's survival depends on Agent Gannon to identify a traitor who has been supplying the enemy with deadly, high-powered weapons.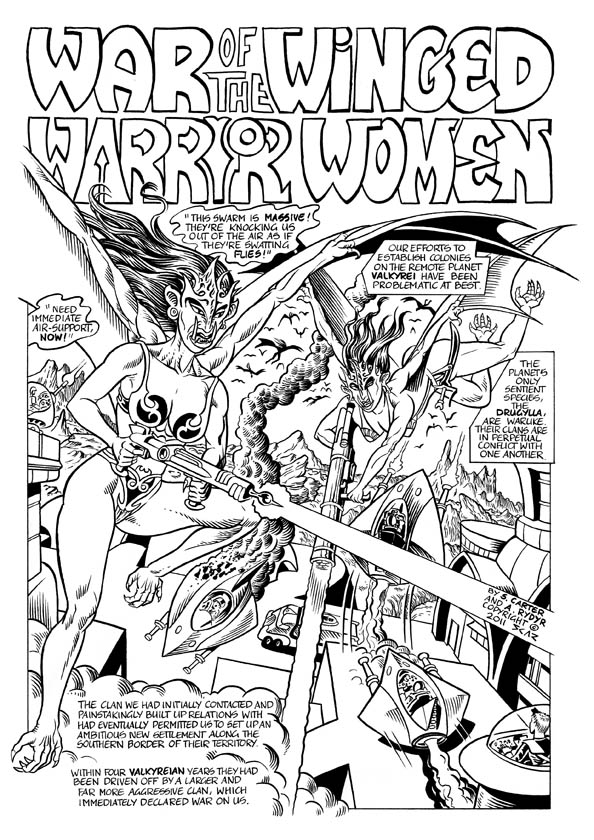 SCOURGE OF THE SWAMPIES - Based on their Award Winning screenplay (Curse of the Swampies), "Scourge of the Swampies" depicts a future world where the Swampies have swelled their number to plague proportions and humanity's reign upon the Earth is on the brink of toppling. While government officials are making clandestine deals with the swampies there is chaos in the street as rally groups demonstrate demanding that the government take action.
HORRORHEADS - In the battle ravaged wastelands of a far-flung future, a trio of mercenaries is hired to rescue the son of a wealthy multinationalist who has been abducted by a clan of perverse and sadistic mutants.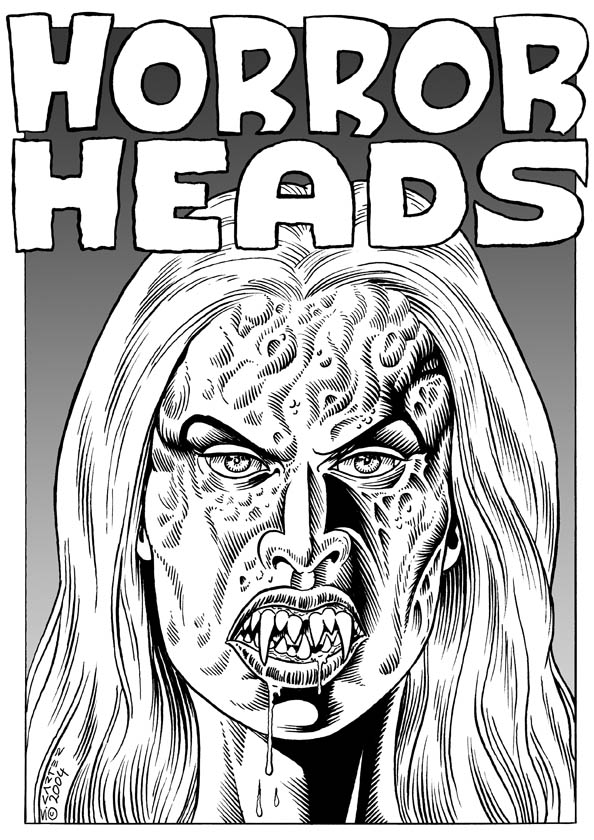 << return to book index