return to Feature Page
Crime Stories
Crime Time & Crime Works Published in "Blackguard" #3:
Crime issue - Spring 2010

Stories and Art by SCAR
Antoinette Rydyr & Steve Carter.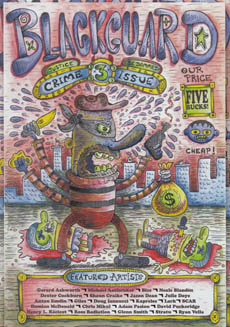 "Blackguard #3" - Published by Stratu - is a superb anthology featuring the awesome talents of Neale Blanden, Ryan Vella, Glenno, Adam Pasion, Kapreles, Gerard Ashworth, Lark. Bize, Jason Dean, Chris Mikul, Shaun Craike, Giles, Julie Doye, Doug Iannucci, Anton Emdim, David Puckeridge, Ross Radiation, Henry L. Racicot, Damian McDonald, Michael Aushenker, Dexter Cockburn..